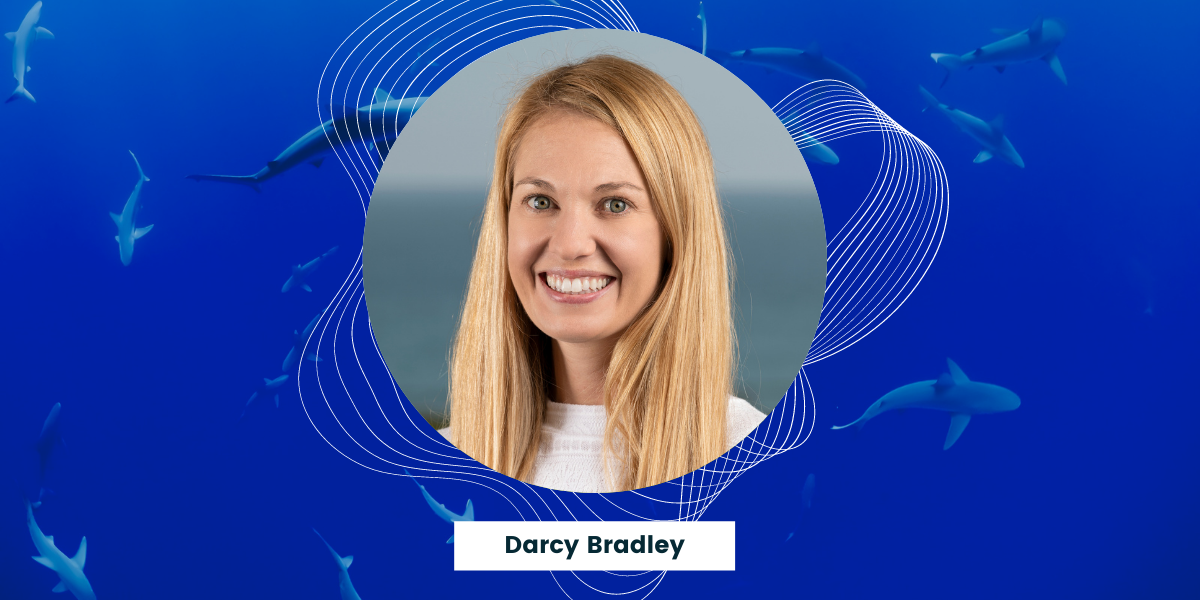 Describe your role at emLab.
I'm the Co-Director of the Ocean & Fisheries Program at emLab.
Where did you grow up? How do you think this area had an impact on the work you do now?
I grew up right here in Santa Barbara, California and I would say that proximity to the beach gave me a fascination with the ocean at a very early age and I've carried this fascination on through to what I do today.
What is your personal story behind why you do what you do?
I've always been fascinated by the ocean and preferred to spend time in, on, or near the ocean. The more I followed that fascination, the more I learned just how simultaneously precarious and resilient ocean ecosystems can be. They're subjected to so many anthropogenic stressors like overfishing and climate change. But when given a chance and with good, sound management many species and some ecosystems are able to rebound. And I think that's important and inspiring because our actions matter and science is one small but key part of working towards a better environmental future.
What is one of the most inspiring places you have been and why?
Tubbataha Reef in the Philippines. It's a place of immense local pride and it's also a location where - because it's a well-enforced, highly protected marine protected area - marine life is thriving. It's truly an inspiring conservation story, and knowing that a place like that exists is both inspiring and motivating.
What aspect of your work are you most proud of?
I am proud that I do more listening to the needs of our partners and local stakeholders than I do talking to ensure that we are working towards objectives and achieving outcomes that are desired by the people who will be most affected by them.
What do you think makes emLab unique?
I think what makes emLab unique is that as an academic organization we bring on expertise from multiple disciplines. Most importantly, we engage in these truly collaborative efforts with partner organizations and local stakeholders to enact real change in the world.
What keeps you curious about your work at emLab?
So many things keep me curious, but one I will highlight is how new observations and data analysis tools and technology are making the scientifically impossible possible right now. We can do things now that we couldn't have done when I was finishing my PhD five years ago. We can now, for example, observe fishing happening across the globe using satellite tracking technology, which is just mind-blowing and it's amazing because it's completely changed the field.
What research topic are you most excited to tackle next?
My next big focal area is on the conservation of highly migratory species, so those species that cross multiple jurisdictional boundaries and have movement patterns that are being altered by climate change. They are not necessarily directly managed by fisheries but are often incidentally caught or discarded by those fisheries as bycatch. It's an ecologically and politically challenging topic, and I am excited to take on that challenge.
What kind of impact do you hope your work at emLab has on the world?
I hope my work at emLab truly improves the state of threatened species and environments without causing harm to the people who depend on those states. I also hope, at a smaller scale, to create an open, welcoming, and encouraging environment to uplift a new generation eager to engage in marine conservation.
What advice do you wish you received early in your career?
I wish I had known that it is not only okay, but it is critically important to bring your true and authentic self to the work that you do. I think being an objective scientist is not at odds with being an empathetic and compassionate human being. And actually I think humanity is what makes our work much better.
What is your vision for emLab over the next 5 years?
There are two visions for me. First, I hope that as emLab grows we remember to learn from each other because there are so many shared lessons across the environmental and natural resource management space―it's why emLab was created and our work is better when we tap into those insights. Second, I hope that we aren't afraid to never be perfectly defined. To keep up with the rapidly changing landscape of environmental threats and the potential solutions to those threats, there is always going to be a need to adapt, reprioritize, and redefine ourselves. And I just hope we are open to that.
Rapid Fire Questions
Give me a one-word description of how you work.
Collaboratively
What are 5 things you couldn't live without?
My family, proximity to the ocean, proximity to natural or wild spaces, music, and coffee.
What is one song to describe this season of your life?
In this pandemic time I have been listening to "This Time Tomorrow" by The Kinks. It's about uncertainty and not knowing what's going to happen even one day in advance. That really resonates with me right now and just trying to not get too hung up on all the uncertainty.
More relevant to my professional life, I've been listening to "Both Sides, Now" by Joni Mitchell. It's about confronting that once we've taken on a more balanced perspective about different issues, we realize how much we don't really know anything and I definitely am confronting that at this stage. I feel like there are lots of things I don't know and I'm really happy to just learn more about everything going on than just try to know it.
If you could go to the past or the future as an observer, which would you choose and why?
I would go to the future because my work is all about following curiosity and trying to know more about the unknown. The year that I would like to go to, because I am also very concerned about being sent out too far into the future, is 2050 so I can get a glimpse of my family and what we can expect our planet to look like.
Were there any fields of study you were interested in before you chose ecology?
As an undergraduate I was first a biology major, then I briefly switched to economics, the keyword is briefly. I ultimately decided on philosophy and, in the end, I combined all of these fields and added a few other ingredients into the mix to become a conservation ecologist.
If you could be any animal, what would it be and why?
Any oceanic shark, preferably one living within a protected area so I don't get fished. Oceanic sharks can roam to the unseen parts of the ocean. They have also been around for hundreds of millions of years, and I'd love to know what that level of evolution feels like.